A delicious collection of 10 Winning Game Day recipes to help you score, even when your team's not!  So turn on the TV, hunker down for all the football games, and dig into these tasty treats.

How to have the best football weekend with these game day recipes
I just realized yesterday that I haven't shared any true game day recipes yet this season.  WHAAAAATT??    As much as I love my football, I love the snacks, treats, and munchies even more, so it's time to share some yumminess we can all enjoy during the games.
I picked 10 of the most drool worthy recipes for tasty game day food (or when you just need party food recipes) from some of my favorite food bloggers (and a couple from me!)   Hope you like them as much as I do and happy football eats!
Best Crockpot Beer, Brats, & Onions Recipe ~ A Fork's Tale :  If you like brats, then this recipe is for you and it's made super easy via the crockpot.  Just throw everything in the pot and, 6-7 hours later, you've got the most amazingly juicy brats.  Bring on the pretzel rolls and spicy mustard!
German Meat & Cheese Board ~ Craft Beering :  Who doesn't love a meat & cheese board?  No one I personally know because I don't need that type of negatively in my life.  This board has everything you'll ever need and is filled with hearty German meats, cheeses, bread and veggies.  Pretty much a complete meal on one platter.
Honey Roasted Peanut Clusters ~ Girl Heart Food :  Make your own all-natural honey roasted peanuts first thing tomorrow morning and snack on these babies all day.  A touch of cayenne pepper gives these peanuts a nice spark of spiciness and makes them oh-so addicting.
Slow Cooker Pumpkin Ale Short Rib Sliders ~ Beer Girl Cooks :  Easy peasy slow cooker recipes are always welcomed in my home on game day weekends.  And anything short rib too!  Put this tender beef in a soft roll, then top with caramelized onions and a zippy horseradish sauce for the best darn little slider you'll ever put in your mouth.
Homemade Pan Pizza ~ Me :  Football and pizza go together like peanut butter and jelly.  Crackers and cheese.  Dark chocolate and me.  This pizza is so much better than hand tossed pizza because it's baked in a cast iron skillet, which means there's a buttery crunchy thick crust under all those beautiful toppings.  You're welcome.
Roasted Garlic Hummus ~ Love In My Oven :  No snacking is complete until the hummus shows up.  The awesome thing about hummus is it's totally non-judgemental and will hang out with any sort of character, from carby bread to crispy tortilla chips to healthy raw veggies.  Hummus is friendly with everyone.
Slow Cooker Whiskey Pulled Pork Tacos ~ Sugar Love Spices :  Slow Cooker.  Whiskey.  Pork.  Do I need to say more?  How about…every richly flavored pork taco is topped with a killer cabbage/corn/tomato slaw that's been tossed in an orange ginger miso dressing.  Seriously, these tacos will make you forget there's even a football game on.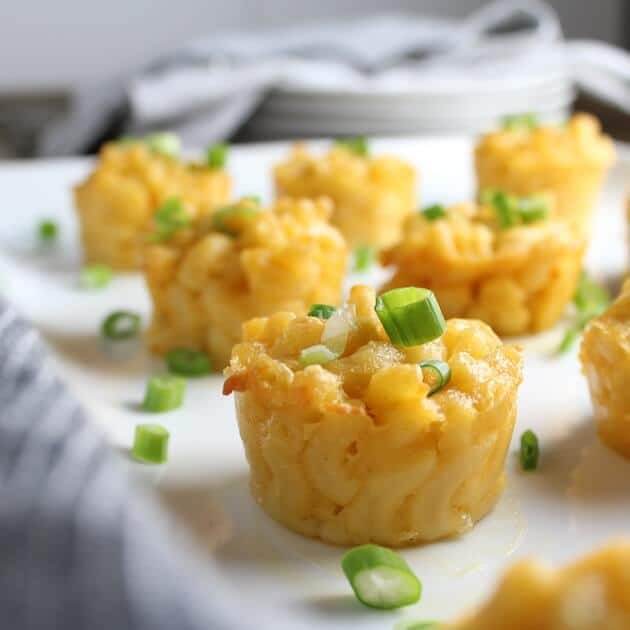 Mac N Cheese Bites ~ Taste and See :  I'm a huge fan of Mac N Cheese so I'll take it any way I can get it.  These perfectly cheesy bites are the best game day comfort food that you can pick up with your hands.  Plus they are mini muffin size so you can eat a whole bunch and not feel guilty.
Baked Spiced Hard Apple Cider Meatballs ~ No Spoon Necessary :  Another mini munchie that everyone loves.  You can't ever go wrong with cocktail meatballs because they are so right in every single way…especially when hard apple cider is involved.
Spicy Buffalo Chicken Dip ~ Me :  Oh, here's the obligatory buffalo chicken dip!  You knew it was going to show up.  After all, isn't there a law against watching a football game without any buffalo chicken dip?  No?  Well, there should be.
That's all 10 Winning Game Day Recipes!!  Enjoy them all this weekend and hope your team wins…unless they are playing the New England Patriots.